Following screenshot is of a jurisdiction error that may show up while you try to carry out any cash activities on our app.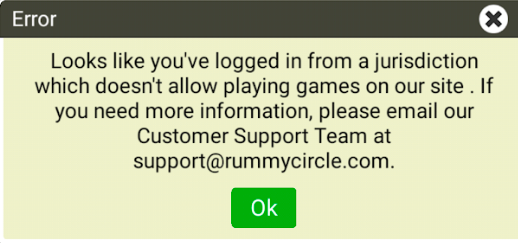 You may see this error when your IP address routes through any of the restricted state * where we do not provide our services and therefore our system will not allow you to carry out any cash activities. ( * Restricted states are Assam, Odisha, Telangana, Sikkim & Nagaland)
If you are not from any of these restricted states and still getting the same error, please follow the below steps to try resolving the issue.

Turn OFF data/wifi -  Turn OFF GPS - Turn ON your Airplane/Flight Mode - Kill your RummyCircle app from apps running in the background.

Post killing the app from recent apps.

Turn OFF Flight Mode - Turn ON data/wifi - Turn ON GPS and then launch the RummyCircle app.

Below is the GIF on how to go about the above steps.